Barcelona is known for its beautiful beaches, amazing architecture and vast selection of traditional and foreign cuisine. There are a million things to see and do here, however, sometimes it may seem as though the entire city is waiting for the same table or spot at the beach.
What's the catch? With the creation of sites like Yelp and Google Reviews that were originally created to help vacationers decide which places were worth visiting in foreign cities, pockets of over-crowded and over-priced tourism traps emerged.
Here are a few hidden gems around Barcelona that you may have not heard about, but definitely deserve a visit.
Palo Market Fest
Tucked away in the quaint neighbourhood of Poblenou, the Palo Market Fest brings a contemporary take to the traditional farmer's market. Held on the first weekend of every month, the event provides an impressive array of handmade craft and clothing vendors, art exhibits displaying original works of local artists, deliciously fresh food and drink options, and finally, live music featuring a great variety of genres.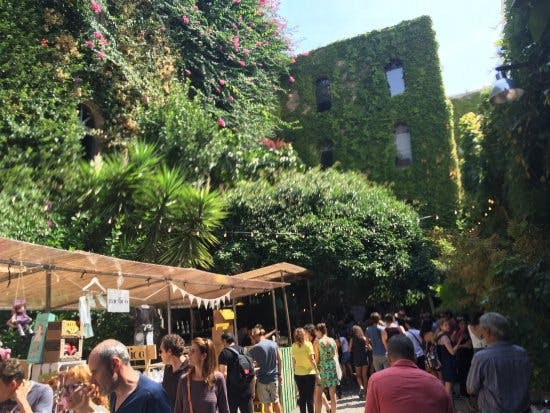 With more centralized markets such asLa Boqueria and Sant Antoni receiving the majority of tourist traffic, the Palo Market Fest, in its obscurity, boasts a more customary experience. It's the place to visit to avoid an overly crowded, and in many cases, contrived event in Barcelona. In addition to the innovative and creative exhibitions found within the market, the actual venue in which it's held is beautiful. Refurbished from the remains of an old factory, the grounds have been transformed into a charming atmosphere of lush, green gardens hung with string lights and flowers, peaceful squares for eating and drinking and spacious buildings to hold concerts and additional vendor stalls.
Tickets for entry are sold online for 3.50€ and at the door for 4.50€.
Carrer dels Pellaires, 30. Metro L4, Selva de Mar.
Plaça del Sol
Found in the heart of the Gràcia district, this bustling city square is renowned by locals as the hotspot to drink, eat and relax in the sunshine. Although the plaza is quite lively, it's a far cry from the hectic, tourist-swarmed streets of its world-famous cousin, Plaça de Catalunya.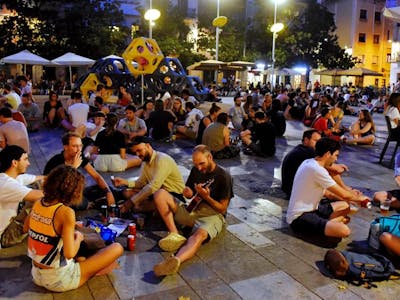 Within the plaza, you'll find a wide selection of restaurants, shops and bars, as well as a plethora of outdoor seating (all the better for people-watching!). Beer lovers should check out La Bodega del Sol, where you can shop from an extensive variety of craft beers from around the world. Those looking for a bite to eat can try Sol Soler, the go-to place for a reasonably-priced, classic (and delicious!) 'tapas on the terrace' experience. After a day of baking in the sun, the warmed marble floors of the plaza are the perfect place to relax with friends for a night of drinking and enjoying the sounds of local chatter, laughter and music.
Metro L4, Fontana. Carrer d'Asturies for 100 meters, right onto Travessia de Sant Antoni for 200 meters, left onto Carrer del Montesany for 100 meters, right onto Carrer de la Virtut for 100 meters.
Amarre 69What do people love more than drinking and eating on a terrace, you ask? Drinking and eating on a terrace near the beach, of course! Amarre 69 is an adorable gastrobar that's strategically located off of Playa de la Barceloneta, aka the most visited beach in Barcelona.
Why is it special? Well, normally when you combine the activities of eating and drinking on a terrace, you're preparing for a very expensive outing. In contrast, Amarre 69 offers tapas and cocktails starting at less than 5€, which is virtually unheard of in such a popular area. Locals absolutely cherish this little bar, and you'll find them enjoying its terrace late into the night.
With daily specials, deals and live music, the local atmosphere here outshines any overpriced, tourist-flooded beach bar in the vicinity. Take a 5 minute walk away from the fuss, and you'll find paradise!
Passeig Joan de Borbó, 69. Metro L4, Barceloneta.